Learn More About Our Memberships
Get Info
Supporting Maine citizens with intellectual and developmental disabilities to live, work, and play in the community.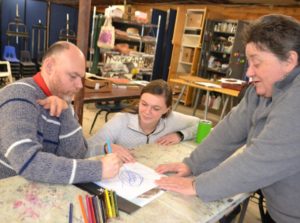 The Maine Association for Community Service Providers (MACSP) is an association of organizations that provide supports and services to children and adults with intellectual and developmental disabilities in Maine.
Our Mission
The mission of MACSP is to represent individuals and organizations that support persons with disabilities to live, learn, and work in the community of their choice through legislative action, organizational advocacy, training, and public education.
MACSP works with many bureaus, offices, and departments of state government and key stakeholders to promote standards and values in supporting people with disabilities people as a public trust, demonstrating integrity, compassion, and respect for individual differences and choices.   Our members represent more than seventy organizations operating in all sixteen counties of Maine providing comprehensive services across the state.
What We Do
Maine Association for Community Service Providers (MACSP) helps children and adults with developmental disabilities live their life fully in the community by providing a range of services:
Residential supports that provide housing and in-home supports to people who need help in their homes;
Community supports that help develop life skills and increase opportunities for community involvement and engagement;
Employment supports that help people find and maintain work to move them toward greater independence;
Case management that helps connect people to the services, supports, and resources they need to lead the life they want.
Our Impact
Maine Association for Community Service Providers improves the lives of children and adults with intellectual and developmental disabilities by:
Supporting them to live a full life integrated with their community.
Lower the per-person costs of care compared to existing state institutions and previous state-run institutions for people with disabilities, such as Pineland.
Help people with developmental disabilities avoid expensive crisis services that are often funded either by local municipalities or MaineCare.
Provider agencies are located in every county in Maine and employ thousands of people including direct support professionals, licensed clinical professionals, administrative services, contractors, food services, and more. To find a community service provider near you, browse our member directory.
Our Challenges
Crisis Support – Due to a lack of enhanced crisis supports and services, adults with intellectual and developmental disabilities are inappropriately hospitalized, institutionalized, incarcerated, homeless, and sent out of state. Crisis services, specifically identified in Maine law to prevent these occurrences, lack capacity to intervene creating a reliance on emergency rooms to serve as crisis support.
Children's Community Support – Maine families with children with intellectual and developmental disabilities are not able to access community services during critical developmental periods. There are no services designed to meet the needs of children with intellectual and developmental disabilities and long waitlists for behavioral health services, which has led to children being placed away from their families in institutions and out of state.
Workforce – the increased demand on services, low unemployment rate, and unsupported rate cuts have created extremely high staff turnover and vacancies. This creates interruption and inconsistency in support for the individuals we serve and an inability to provide a stable career path for the talented and compassionate direct support professionals providing those supports.